H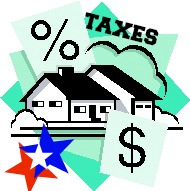 ere is the first of 4 blog posts with
some great tax tips for homeowners,
from The National Association Of Realtors.
Adding insulation isn't just good news for your comfort and your utility bills. It could mean a tax credit, too. Read

Don't get in hot water over fuel bills. If you installed an efficient water heater, you might be eligible for a tax credit. Read

Did you literally put a new roof over your head? You may be eligible for a $500 energy tax credit. Read

If you're in the market for new windows, a skylight, or a new exterior door, the Feds have made the cost a little more palatable with an energy tax credit. Read
Visit houselogic.com for more articles like this.
Copyright 2016 NATIONAL ASSOCIATION OF REALTORS®