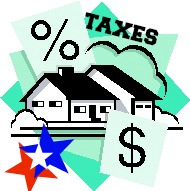 Here is the 3rd of 4 blog posts,
with some great tax tips for homeowners,
from The National Association Of Realtors...
Missed tax deduction? Overlooked tax credit? Get what's coming to you by amending your return. Read

Deducting PMI premiums can save you hundreds of dollars. Here's what you need to know to get the deduction. Read

Want to purge your records — and rest assured you have all the documents you need when you need them? Read on. Read
Visit houselogic.com for more articles like this.
Copyright 2016 NATIONAL ASSOCIATION OF REALTORS®