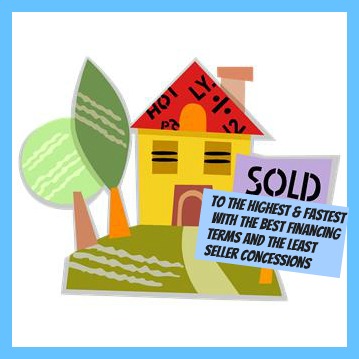 You're searching for your first (or next) home. You did everything right. You kept your credit rating high, saved for your down payment, chose a mortgage company and got pre approved for a mortgage
You hired an experienced real estate broker to represent you, and together you searched for real estate listings in the MLS and consumer web sites for just the right house.
You even found yourself compromising on some of your "must have features" because of the limited choices available in today's market.
You chose several houses from the lists that your real estate agent sent you, and set appointments with her to see them over the weekend, only to find out that half of the ones you liked were already under contract.
You were on time and excited and saw a couple that you liked, but didn't think you should buy a house on the first time out, so you asked to see a few more the next weekend.
The following weekend you saw the houses that were low on the list and didn't have time for from the previous week along with a couple of brand new listings, and you realized how much you liked the cape cod with the basement that you saw the week before. As it turned out, someone else also liked it and made an acceptable offer on it.
So now you and your agent start all over with a new crop of listings. Maybe you've had to expand your search to another area or wait for new listings to come available.
Then one day a house comes on the market that looks perfect for you. You call your agent, who understandingly juggles her schedule to arrange a showing, you get off work early to see the house, love it, and make a full price offer that night. The next morning 2 other offers are presented to the seller along with yours and you are asked to make your "highest and best" offer. Now you are in the dreaded "bidding war" that you wanted to avoid. So taking into consideration that the house still has to be appraised according to comparable houses in the area, and the fact that you are stretching your finances a little beyond your comfort zone, you make your best offer. After a day of nail biting anxiety you find out your offer is turned down in favor of an all cash offer with no financing contingency.
This has been the story of most home buyers in the starter home or 2nd home price range in the Northeast Metro Atlanta area for the last year.

It was a different story just 2 or 3 years ago. All you needed was good credit, and you could have your pick of good houses at great prices.

Then the large and small investing companies got wind of our market and started buying up everything. They make all cash offers on multiple properties without even seeing the houses. If their research show that their ROI numbers don't jive or their inspection results are unfavorable, they "opt out" of the contract days later or try to negotiate a lower price.
We're currently seeing a lot of properties come back on the market after going under contract for these and other (financing) reasons.
The good news is that when considering multiple offers, many home sellers are now leaning more towards choosing a buyer who will occupy and enjoy the home much as they did.
In my 22 year career I have seen the real estate market change many times.
Since none of us can stop changes from happening, here are my tips for succeeding in buying a wonderful home;
1. Be realistic about your "must have features" wish list and the price you are willing to pay, from the beginning.
I have seen too many buyers start off looking for all their "must haves" at their rock bottom price limit, only to raise their price limit and lower their requirements after missing out on some great home possibilities. For example- a fenced yard should not be a must have. Within a couple days of closing on your home, you can have a fence installed.
Price out some of the items you require for your lifestyle in advance, and take them into consideration when making your best offer
2. Understand that you and your real estate agent are a team. Discuss a home search system that works for both of you.
Some of my clients are unsure of the market and the practicality of their feature requirements, so I set them up in a system that allows them to search the MLS system and make changes to their search as they see fit.
Others have very simple requirements such as a particular school system and a price limit, so I set up a search that notifies them of all listings meeting those 2 requirements.
If you see something on one of the large consumer sites (which are often outdated), provide the MLS data to your agent to check on.
You may feel like you are doing all the work, but in this age of the world wide web you have just as much access to property listings as your agent does, and believe me, your agent cannot possibly be aware of every house that hits the market that you are interested in.
Houses come on and off the market too quickly, and your agent is trying to juggle schedules, and showings and stay abreast of market data and availability of the homes that you and 2 or 3 other buyers are interested in at any given time.
It's the efficiency and communication of your homebuying team that will get you in the home of your future.
3. Be available for last minute showings. When you decide it's time to buy a home, you are also agreeing to forego other social activities and hobbies while you are in the market. Once you're at a point in your home search where you are watching and waiting for new listings to hit the market, you should make time to meet with your real estate agent who is most likely putting other clients on hold and changing her (or his) schedule often to accommodate you as well. Again, it's a team effort.
4. Be ready to make a good offer. I can't say this enough.
I tell my buyer clients that I don't ever want them to buy a house they don't like, but if they see a house they like I expect them to buy it!
Needless to say this also refers to getting pre approved (with proof) for a loan and having all of your down payment and earnest money ready.
If you're paying cash be sure to have the proof of funds available for your agent to present with your offer..
5. If it doesn't happen it's not meant to be. The is the 2nd best advice I can give a prospective home buyer. Often in the efficiency and business of buying a home, what is too often forgotten is the lives that are to be lived there. Neighbors will be met, friends will be made, children will play and attend schools where they will thrive , job and church and family events will be commuted to, holidays will be hosted. People's lives have destinies and if you do everything you can and are advised to do to buy the home you want, and it doesn't happen, then destiny has another plan for you.
6. Sometimes it WAS meant to be.
Remind your agent of the homes you liked that you missed out on and ask him/her to check back with the listing broker to see if the accepted contract becomes terminated. As mentioned earlier, many homes come back on the market for a variety of reasons. However, if the reason is a bad home inspection, you may want to stay clear of it.
7. And the most important piece of advice that I can offer is Don't give up!
Try not to get frustrated.
I worked with a 1st time home buyer who contracted to buy a short sale. Although aware of the possible delays and pitfalls of short sales, she believed she had the patience to wait it out. This was almost 2 years ago when some home prices were still ridiculously low, and she was buying it at a great price. After several extensions, she finally wore out and terminated the contract, a week before it would have closed . Today that house is worth 50% more than she would have paid for it. I do not recommend buying a short sale for most buyers. That's a blog article all its own.(coming soon)
8. And lastly know that your home buying process is unique to you, the market on any given day, and your needs and qualifications.
It will not be the same experience your parents or even your friends have had. And it will not be the same as it is for your real estate agent's other buyer clients.
Because there are people involved, with their own experiences, opinions, and desires, there are many unknown factors.
Your experience may be more difficult than that of your friends and family.
And it may even be better.
So get ready, get set, and go.

and Happy house hunting!
Here are some more interesting articles that you will find helpful in preparing you for the homebuying process