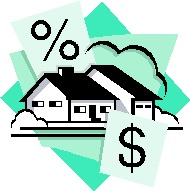 I'm often asked at social functions, "So Barbara, how's the real estate market ?" My answer changes week to week, especially in recent months.
I would like to answer that question as of today. But first, since economic growth is often cumulative let's look at the last quarter of 2012;
Here it is as reported by the US Department of Housing and Urban Development in the 4th quarter report issued in February 2013, titled "US Housing and Market Condiitons' by the office of Policy development and Research, in statistics;
Permits and building starts rose although completions fell

Sales and values (up 10 to 11% from previous the year ) rose for new and previously owned homes

Inventory was at a 4.8 month supply, up slightly from the 3rd quarter but down from previous months and recent years

The national homeownership rate declined slightly

The rate of loan delinquency went down and the amount of initiated foreclosures was the lowest it has been since 2007

Real estate residential investment went up 15.3 % , contributing .36% to the GDP (Gross Domestic Product).

Qualified homebuyers were overqualified by 189% of loan requirements for mortgages and interest rates reached a record low.

For all of 2012 home sales were up 19% over the previous year.
And how are the statistics today after the 1st quarter of 2013?
According to the National Association of Realtors;
Housing inventory rose at the end of April by 11.9%, representing a 5.2 month supply over a 4.9 % supply in March, but is at 13% below inventory this time last year when there was a 6.6 month supply

Buyer traffic is 31% stronger than last year, but sales are only up 10% due to lower inventory and tighter credit requirements.

And more good news - prices have consistently increased year to to year comparison over the last 14 months with sales increasing year to year over the last 22 months.

The average time on the market was 73 days for short sales, 43 for foreclosures and 44 for non distressed sales.

30% of sales were all cash deals with 19% of those being investor buyers.
In my market area, here in the south, existing-home sales rose 2.0 percent to an annual level of 2.01 million in April and are 14.9 percent above April 2012. The median price in the South was $168,700, which is 10.6 percent above a year ago.
Great stats, right?
So when you ask me "How is the market?" this is my reply;
The real estate market is on the upward swing.
What we need is more new construction – but not as much as in 2005 - 2007 when we overbuilt the area. This will increase the inventory to meet the demand and create jobs.
The mortgage industry needs to loosen up its loan requirements a little – but not as much as in 2007-2009 which created obvious problems.
Hopefully more homeowners who have been holding off will start to put their homes on the market, adding to the inventory to meet the demand, and the market will stabilize to a slower but healthier growth.
The real estate market is alive and well.
If you would like to receive copies of the reports from HUD and the NAR, or would like a market analysis for your property, FREE of charge, I am happy to provide that service. Just click here to let me know.
To see all available homes in the metro Atlanta area search here.